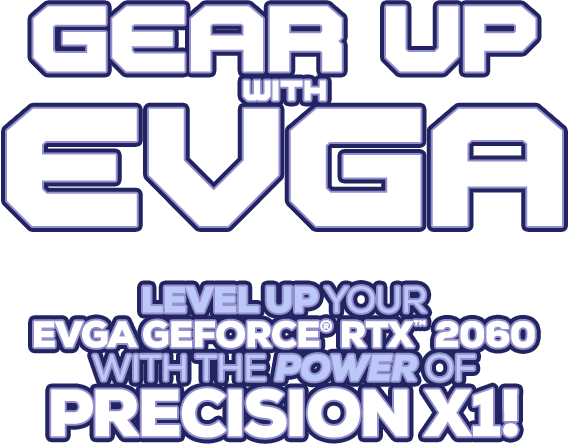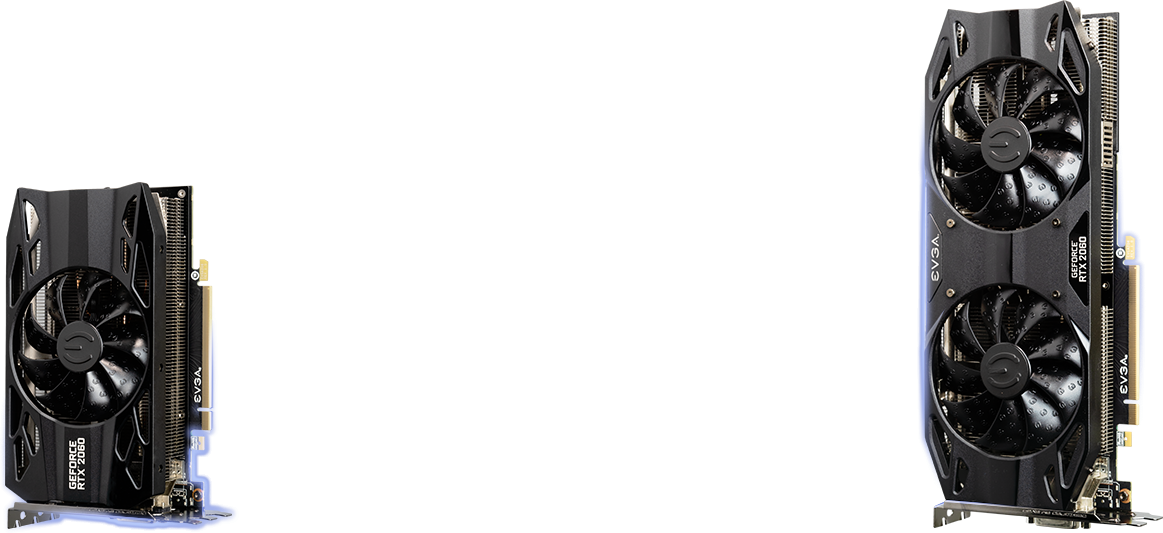 Level up your EVGA GeForce RTX 2060 with the Power of Precision X1! - Winners Announced
Die EVGA GeForce RTX Gaming Karten bieten dir mit einer Grafikleistung der nächsten Generation und erweiterten Übertaktungsfunktionen durch EVGA Precision X1, das beste Gaming Erlebnis. Mit einem brandneuen Layout, einer völlig neuen Codebasis, neuen Funktionen und vieles mehr, ist die neue EVGA Precision X1 Software schneller, einfacher und besser als je zuvor. In Verbindung mit einer NVIDIA Turing Grafikkarte entfaltet das neue EVGA Precision X1 sein volles Potenzial mit einem integrierten Übertaktungsscanner, einstellbaren Lüfterkurven und einer RGB LED Steuerung.
Hauptmerkmale
Brandneue Oberfläche, die schneller und einfacher zu bedienen ist.
Echtzeit-Leistungsüberwachung (auf unterstützten EVGA Grafikkarten).
Volle Unterstützung für GeForce RTX Grafikkarten (GTX Unterstützung folgt in Kürze)
RGB LED Steuerung, die Grafikkarten und / oder NVLink Bridge unterstützt.
LED Synchronisierung, um andere EVGA RGB Komponenten anzupassen.
Dynamische Einstellung unabhängiger Spannungs- / Frequenzpunkte für ultimative Kontrolle.
Neuer OC Scanner für die einfachste und stabilste Übertaktung.
On-Screen-Display (OSD) zeigt die Systemdaten auf einen Blick.
GPU-Takt, Speichertakt und Spannungssteuerung.
Benutzerdefinierte Lüftersteuerung und Lüfterkurve.
Profilsystem für bis zu 10 Profile mit Hotkey.
In Game Screenshot Funktion.
+ Mehr!
So können Sie teilnehmen:
Registrieren Sie Ihre Grafikkarte der EVGA 2060-Serie auf EVGA.com
Laden Sie Precision X1 herunter und installieren Sie es, falls Sie es noch nicht haben.
Machen Sie einen Screenshot mit einem beliebigen Teil von Precision X1 mit Zeit- / Datumsanzeige
Laden Sie Ihr Bild auf Facebook, Twitter oder Instagram hoch mit der Verwendung folgender Tags

Facebook: @TEAMEVGAUK , @TeamEVGADE, @evga.france und verwenden Sie den #GearUpEVGA
Twitter: @TeamEVGAUK, @TeamEVGADE, and @EvgaFrance und verwenden Sie den #GearUpEVGA
Instagram: @teamevgauk, @teamevgade, and @teamevgafrance und verwenden Sie den #GearUpEVGA

Über die untenstehende Gleam App teilnehmen. Stellen Sie eine Verbindung zu Ihren sozialen Medien her, wo Ihr Bild hochgeladen wird, und wählen Sie das Bild aus, das Sie für den Wettbewerb einreichen möchten.
Am Ende des Wettbewerbs werden 3 qualifizierende Gewinner aus den nachstehenden Einträgen nach dem Zufallsprinzip ausgewählt.
*Facebook-Posts müssen auf öffentliche Posts eingestellt sein.
Official Terms and Conditions
NO PURCHASE IS NECESSARY TO ENTER OR WIN. A PURCHASE DOES NOT INCREASE THE CHANCES OF WINNING.
1. Eligibility:
The EVGA Level up your EVGA GeForce RTX 2060 with the Power of Precision X1 Event Sweepstakes (the "Event") is open only to those who are over the age of 18 as of the date of entry. The Event is only open to legal residents of Europe, where permitted by law. If you are under the legal age of majority, one of your parents or legal guardians must submit a signed, written statement that they have read, understood and agree to these Event rules (the "Rules") with your entry, and that such agreement constitutes acceptance of these Event Rules on behalf of you and themselves.
Entrants must also fulfill the following requirements:
Entrants must have a valid account at EVGA.com.

Registration is free. Once at EVGA.com, click "SIGN IN", then click "SIGN UP", and fill out a brief form, and click "REGISTER". You will need to activate your account via email.

Entrants must have at least EVGA GeForce RTX 2060 graphics registered to their account.

To register a product at EVGA, Log In to your EVGA account, click "SERVICE" at the top of the screen, click "Product Registration" under the Service list, and follow the instructions to register your product.

Entrants must download and install EVGA Precision X1.
Employees of EVGA Corporation ("EVGA" or the "Sponsor") their respective affiliates, subsidiaries, advertising and promotion agencies, suppliers and their immediate family members and/or those living in the same household of each are not eligible to participate in the Event. The Event is subject to all applicable federal, state and local laws and regulations. Void where prohibited.
2. Agreement to Rules:
By participating, you agree to be fully unconditionally bound by these Rules, and you represent and warrant that you meet the eligibility requirements set forth herein. In addition, you agree to accept the decisions of EVGA Corporation, as final and binding as it relates to the content. The Event is subject to all applicable federal, state and local laws. Further, you hereby acknowledge that you have read and agreed to EVGA's Privacy Policy, which can be found by clicking here, including the policy regarding the European Union General Data Protection Regulation (also known as the "GDPR").
3. Event Period:
Entries will be accepted online starting on or about Montag, 11. März 2019 and ending Sonntag, 31. März 2019. All online entries must be received by Sonntag, 31. März 2019 11:59PM PDT.
4. How to Enter:
The Event must be entered by taking a screenshot of EVGA Precision X1 with an installed EVGA GeForce RTX 2060 graphics card. The screenshot may show any or all parts of the Precision X1 application.
Entrant must submit entry by uploading their screenshot on entrant's Facebook, Twitter or Instagram page; entrant must tag @TeamEVGAUK, @TeamEVGADE, and @EvgaFrance; and entrants must use hashtag #GearUpEVGA. Entrant's post must be made public.
Entrant must then enter the Event via the promotion's Gleam app, located at https://de.evga.com/01311. Through the Gleam app, entrants must connect their social media where their image is located and select which image to use for the Event. MAKE SURE TO ENTER AN YOUR EMAIL THAT MATCHES THE ASSOCIATED WITH YOUR EVGA ACCOUNT. This will be used to verify that an entrant has an EVGA GeForce RTX 2060 registered to their account.
The entry must fulfill all Event requirements, as specified, to be eligible to win a prize. Entries that are not complete or do not adhere to the Rules or specifications may be disqualified at the sole discretion of the Sponsor. You may enter only once and you must fill in the information requested. You may not enter more times than indicated by using multiple email addresses, identities or devices in an attempt to circumvent the Rules. If you use fraudulent methods or otherwise attempt to circumvent the Rules your submission may be removed from eligibility at the sole discretion of the Sponsor.
5. Prizes: Three Prizes are available:
1 Winner will receive a free Step-Up from their EVGA GeForce RTX 2060 graphics card to an EVGA GeForce RTX 2070 FTW3 (08G-P4-2277-KR), one EVGA CLC 2080 (400-HY-CL28-V1), and one EVGA 850 G3 Power Supply (220-G3-0850-X*)

The Winner must agree to the Terms and Conditions of the EVGA Step-Up Program, which can be located here: https://de.evga.com/support/stepup/
EVGA will cover all related shipping costs for the Step-Up.

1 Winner will receive an EVGA CLC 240 (400-HY-CL24-V1) and one EVGA 650 G3 Power Supply (220-G3-0650-Y*)
1 Winner will receive an EVGA CLC 120 (400-HY-CL12-V1) and one EVGA 550 G3 Power Supply (220-G3-0550-Y*)
*Exact part number suffix for the power supplies will be determined by the region of residence for the Winners.
Actual/appraised value may differ at time of prize award. The specifics of the prize shall be solely determined by the Sponsor. No cash or other prize substitution permitted except at Sponsor's discretion. The prize is nontransferable. Any and all prize related expenses, including without limitation any and all federal, state, and/or local taxes shall be the sole responsibility of the winner. No substitution of prize or transfer/assignment of prize to others or request for the cash equivalent by winners is permitted. Acceptance of prize constitutes permission for the Sponsor to use winner's name, likeness, and entry for purposes of advertising and trade without further compensation, unless prohibited by law. All prizes are provided AS IS and Sponsor makes no guarantees regarding the prizes.
6. Odds:
The odds of winning depend on the number of eligible entries received.
7. Winner selection and notification:
Winners of the Event will be selected in a random drawing among eligible entries under the supervision of the Sponsor. Winners will be listed on the Event page [insert hyperlink] and Gleam widget, and notified via their provided email on entrant's account at EVGA.com within 7 (seven) business days following the winner selection on or around Dienstag, 2. April 2019. Alternatively, winners may email iwon@evga.com within 14 days of the winner announcement to claim their prize. Sponsor shall have no liability for a winner's failure to receive notices due to winners' spam, junk e-mail or other security settings or for winners' provision of incorrect or otherwise non-functioning contact information. If the selected winner cannot be contacted, is ineligible, fails to claim the prize within 15 days from the time award notification was sent, or fails to timely return a completed and executed declaration and releases as required, prize may be forfeited and an alternate winner selected.
Prizes will be shipped out via a carrier appropriate for the Winners' region. EVGA reserves the right to select a carrier of its own choosing. All prizes will be shipped within a reasonable time after Winner has accepted the prize and provided any and all documentation required by EVGA. The Winner of the Step-Up prize must contact EVGA to arrange the details of the Step-Up and receipt of the other included prizes. Winner is responsible for all federal, state and local taxes associated with acceptance and use of prize. You will receive a tracking number once your package has been shipped. EVGA is not responsible for and shall not be liable for late, lost, misdirected, or unsuccessful efforts to claim prizes.
The receipt by winner of the prize offered in this Event is conditioned upon compliance with any and all federal and state laws and regulations. ANY VIOLATION OF THESE OFFICIAL RULES BY ANY WINNER (AT SPONSOR'S SOLE DISCRETION) WILL RESULT IN SUCH WINNER'S DISQUALIFICATION AS WINNER OF THE EVENT AND ALL PRIVILEGES AS WINNER WILL BE IMMEDIATELY TERMINATED.
8. Rights Granted by You:
By entering this content you understand that Sponsor, anyone acting on behalf of Sponsor, or its respective licensees, successors and assigns will have the right, where permitted by law, without any further notice, review or consent to print, publish, broadcast, distribute, and use, worldwide in any media now known or hereafter in perpetuity and throughout the World, your entry, including, without limitation, the entry and winner's name, portrait, picture, voice, likeness, image or statements about the Event, and biographical information as news, publicity or information and for trade, advertising, public relations and promotional purposes without any further compensation.
9. Trademarks:
Trademarks, logos, and service marks displayed on the Website are registered and unregistered trademarks of EVGA Corporation, its subsidiaries, its affiliates, its licensors or content providers, or other third parties. All of these trademarks, logos, and service marks are the property of their respective owners. Nothing contained herein shall be construed as granting, by implication a license or right to use any trademark, logo, or service mark displayed on the Website without the owner's prior written permission, except as otherwise described herein. You agree that by posting information on the Website and/or any submission in connection with this Event you grant and assign EVGA and its successors a non-exclusive, worldwide, royalty-free, perpetual, non-revocable license to use, distribute, display, reproduce, and create derivative works from such material in any and all media, in any manner, whole or part, without any duty to account to you. You also grant EVGA the right to authorize the downloading and printing of such material, or any portion thereof, by end users for their personal use.
10. Terms:
Sponsor reserves the right, in its sole discretion to cancel, terminate, modify or suspend the Event should (in its sole discretion) a virus, bugs, non-authorized human intervention, fraud or other causes beyond its control corrupt or affect the administration, security, fairness or proper conduct of the Event. In such case, Sponsor may select the recipients from all eligible entries received prior to and/or after (if appropriate) the action taken by Sponsor. Sponsor reserves the right at its sole discretion to disqualify any individual who tampers or attempts to tamper with the entry process or the operation of the Event or website or violates these Terms and Conditions.
Sponsor has the right, in its sole discretion, to maintain the integrity of the Event, to void votes for any reason, including, but not limited to; multiple entries from the same user from different IP addresses; multiple entries from the same computer in excess of that allowed by Event Rules; or the use of bots, macros or scripts or other technical means for entering.
Any attempt by an entrant to deliberately damage any web site or undermine the legitimate operation of the Event may be a violation of criminal and civil laws and should such an attempt be made, Sponsor reserves the right to seek damages from any such person to the fullest extent permitted by law.
11. Limitation of Liability:
By entering you agree to release and hold harmless EVGA Corporation and its subsidiaries, affiliates, advertising and promotion agencies, partners, representatives, agents, successors, assigns, employees, officers and directors from any liability, illness, injury, death, loss, litigation, claim or damage that may occur, directly or indirectly, whether caused by negligence or not, from (i) such entrant's participation in the Event and/or his/her acceptance, possession, use, or misuse of any prize or any portion thereof, (ii) technical failures of any kind, including but not limited to the malfunctioning of any computer, cable, network, hardware or software; (iii) the unavailability or inaccessibility of any transmissions or telephone or Internet service; (iv) unauthorized human intervention in any part of the entry process or the Event; (v) electronic or human error which may occur in the administration of the Event or the processing of entries.
12. Disputes:
THIS EVENT IS GOVERNED BY THE LAWS OF UNITED STATES OF AMERICA AND CALIFORNIA, WITHOUT RESPECT TO CONFLICT OF LAW DOCTRINES. As a condition of participating in this Event, participant agrees that any and all disputes which cannot be resolved between the parties, and causes of action arising out of or connected with this Event, shall be resolved individually, without resort to any form of class action, exclusively before a court located in Orange County, California having jurisdiction.
UNDER NO CIRCUMSTANCES WILL YOU BE PERMITTED TO OBTAIN AWARDS FOR, AND YOU HEREBY WAIVE ALL RIGHTS TO CLAIM PUNITIVE, INCIDENTAL, OR CONSEQUENTIAL DAMAGES, INCLUDING REASONABLE ATTORNEYS' FEES.
SPONSOR's TOTAL LIABILITY TO YOU, FROM ALL CAUSES OF ACTION AND ALL THEORIES OF LIABILITY, WILL BE LIMITED TO AND WILL NOT EXCEED YOUR ACTUAL OUT-OF-POCKET EXPENSES (I.E. COSTS ASSOCIATED WITH ENTERING THIS EVENT), AND PARTICIPANT FURTHER WAIVES ALL RIGHTS TO HAVE DAMAGES MULTIPLIED OR INCREASED.
13. Winners List:
To obtain a copy of the winner's name or a copy of these Official Rules, mail your request along with a stamped, self-addressed envelope to: EVGA Level up your EVGA GeForce RTX 2060 with the Power of Precision X1 Event Winner Confirmation Request, 408 Saturn St., Brea, CA 92821 USA. Requests must be received no later than Montag, 15. April 2019.
14. Severability:
If any of the provisions of these Official Rules are held by a court of competent jurisdiction to be unenforceable or invalid, then such provisions will be ineffective to the extent of the court's ruling. All remaining portions of the Official Rules shall remain in full force and effect.
15. Sponsor:
The Sponsor of the Event is EVGA Corporation (EVGA), a California corporation with principal place of business at 408 Saturn St., Brea, CA 92821, USA.