EVGA
Z390
Series

Motherboards
8-Core Power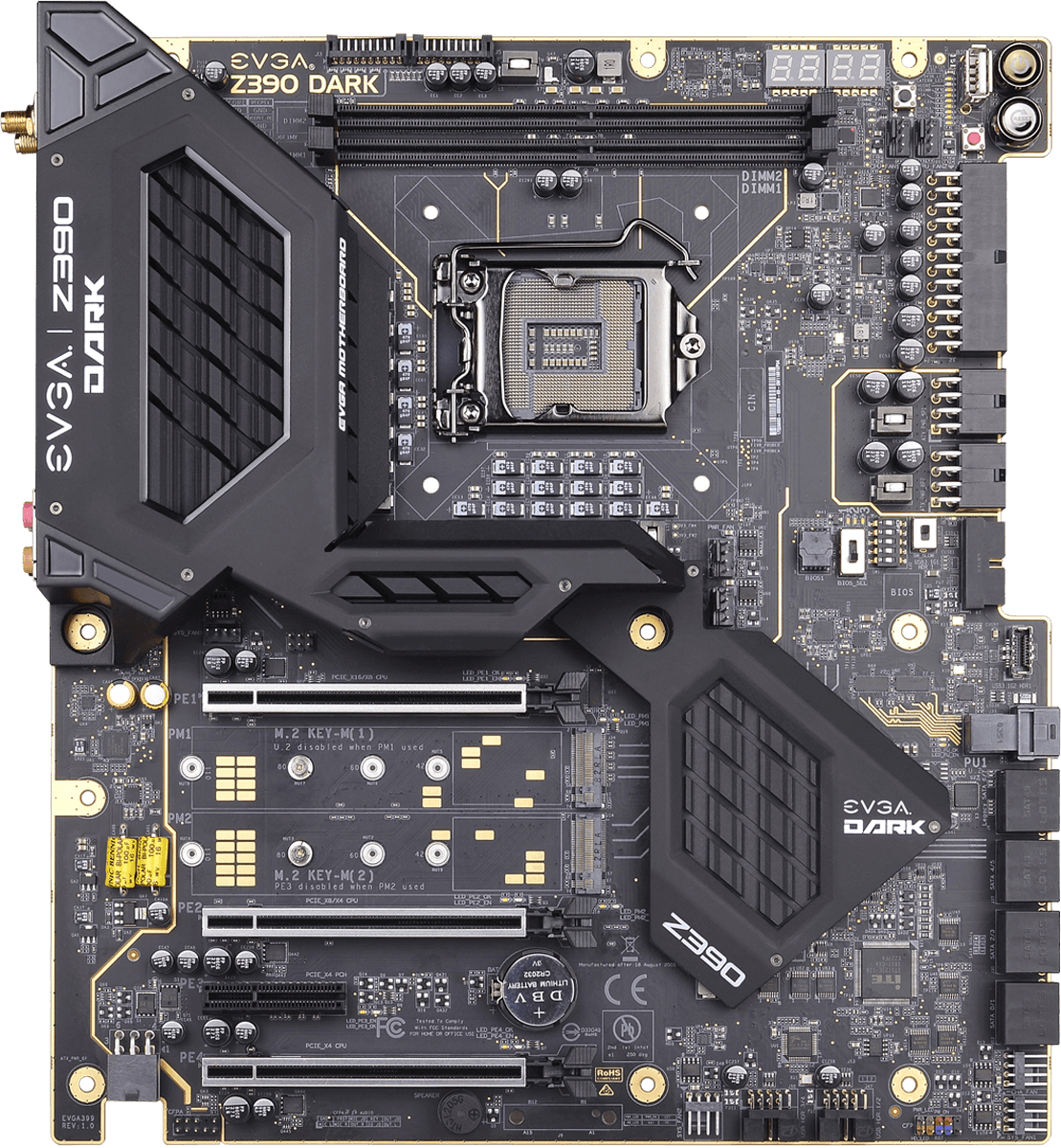 Der Intel Z390-Chipsatz ist auf die extreme Leistung von Intels erstem 8-Kern-Prozessor für gängige Desktop-Motherboards ausgelegt. Die EVGA Z390-Boards wurden für alltägliche Aufgaben, außergewöhnliche Leistung, Hardcore-Gaming und natürlich Übertaktung konzipiert. Diese Boards verfügen über das neueste GUI-BIOS mit OC Robot und In-BIOS-Stresstests, die Möglichkeit, das BIOS ohne CPU zu flashen, sowie EVGA Nu Audio (nur Z390 FTW) – und bieten damit für jeden etwas Neues. Das EVGA Z390 FTW ist als erstes Board erhältlich, aber das "Dark"-Modell wartet bereits in den Startlöchern...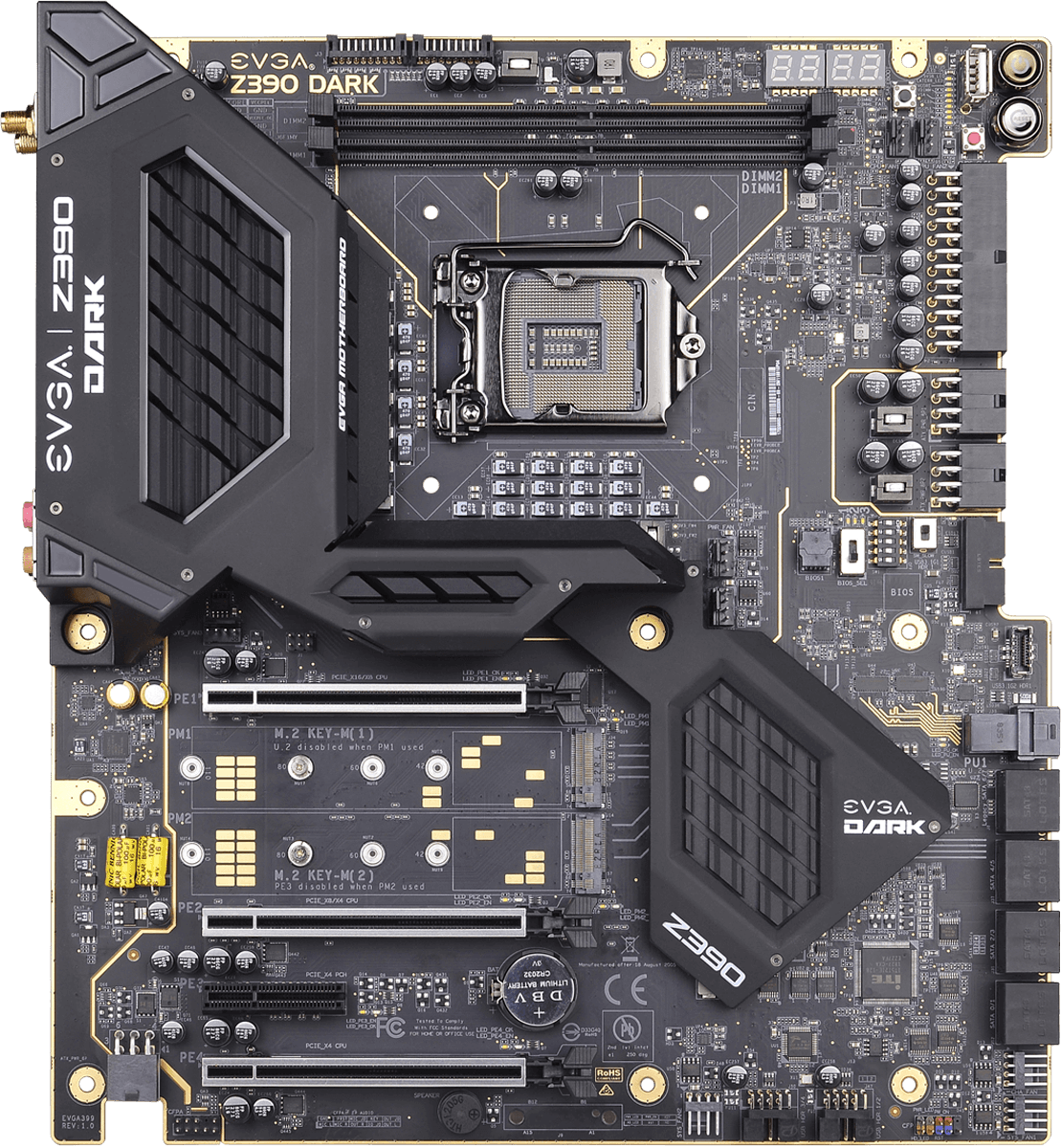 EVGA

Z390 Dark
131-CS-E399-KR
Das EVGA Z390 Dark setzt Maßstäbe für Motherboards, die auf dem Intel® Z390-Chipsatz basieren. Wie sein älterer Bruder, das EVGA X299 Dark, wurde das Z390 Dark für Ultra-Enthusiasten entwickelt, die auch noch das letzte Quäntchen Leistung aus den neuen Intel®-8-Kern-CPUs der 9. Generation herausholen möchten. Das Z390 Dark verfügt über ein 17-phasiges VRM-Design für die CPU sowie zwei rechtwinklige 8-polige Hochstromanschlüsse, um maximale Leistung für die Übertaktung zu liefern. Zwei SMT-DIMMS ermöglichen die Übertaktung von RAM mit hoher Frequenz und niedriger Latenz. Die 10-Lagen-PCB ist mit mehreren Sensoren bestückt, um eine Vielzahl von Temperaturen und Spannungen auf dem gesamten Board zu verfolgen, die auf den Dual-LED-Bildschirmen angezeigt werden können. Darüber hinaus verfügt das Z390 Dark über Creative Audio, zwei Intel® Gigabit NICs, Mini-DisplayPort, Onboard-Schalter für Betrieb/Reset/CMOS, PCIe-Deaktivierungsschalter, dreifache BIOS-Unterstützung, acht intelligente Lüfteranschlüsse und mehr Schneid als man von einem Motherboard erwarten würde. Wenn du auf ein ernstzunehmendes Motherboard gewartet hast, ist jetzt der Zeitpunkt für ein Upgrade gekommen. Das "Dark" ist bereit.
Spezifikation
Chipset: Intel Z390
Socket: Intel Socket LGA1151
Form Factor: E-ATX
SLI: 2-Way SLI
Memory: 2 DIMM Dual-Channel (up to 32GB) DDR4 4600MHz+
Display Outputs: 1x mDP
USB: 4x USB 2.0 (4 Ports from 2 Internal Headers)
USB 3.1 (Rear I/O): 4x USB3.1 Gen2 Type-A, USB3.1 Gen2 (From ASM3142) 1x Type-A/1x Type-C, 2x USB3.1 Gen1
USB 3.1 (Internal Header): 1x USB3.1 Gen2 Type-C, 2x USB3.1 Gen1 (2 from Internal Header) with USB Power Delivery Support
SATA: 6 Native SATA 6.0Gbps Ports / 2 ASMedia SATA 6.0Gbps Ports
M.2 Key-M: 2x 110mm Slots (Up to 32Gb/s)
M.2 Key-E: 1x 32mm Slots
Ethernet: 2x Intel® Gigabit NIC
Audio: Creative Sound Core3D Quad-Core Audio Processor
Fan Headers: 8 (2 CPU PWM, 6 PWM/DC)
PCB: 10 Layers
Hauptmerkmale
Onboard Clear CMOS, Power and Reset Buttons
Triple BIOS Support
Intel® Optane™ Memory Ready
Onboard Temperature and Voltage Monitoring
Slow Mode switch locks CPU multiplier to lowest possible setting to allow users to switch between max OC and low speeds in real-time.
SafeBoot button to reset the motherboard and go into the BIOS with last known good settings without clearing CMOS
Highly-Efficient 17 Phase Digital VRM
Reinforced PCIe slots
Dual EVGA Probe-It Connectors
Creative 5.1 Channel HD Audio + EVGA NU Audio
New Integrated EVGA Wireless Module with Intel Dual-band WiFi / BT5.0 with external antenna
EVGA Z390-Motherboards sind auf Langlebigkeit und Zuverlässigkeit ausgelegt.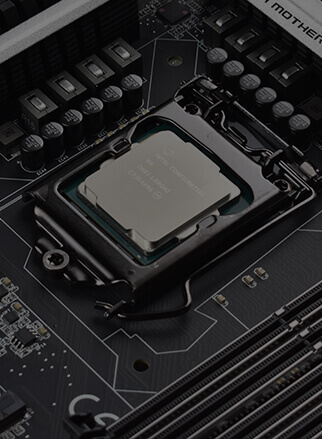 Intel® Core i3/i5/i7/i9 Coffee Lake-S-Prozessoren der 9. Generation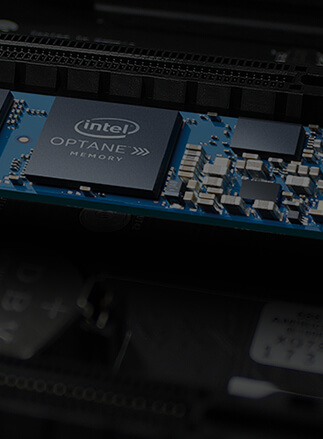 Intel® Optane™ Memory Ready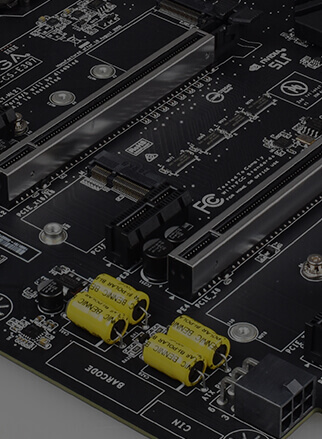 Verstärkte PCIe-Steckplätze (E399)/
Verstärkte PCIe-Steckplätze und DIMM-Steckplätze (E397)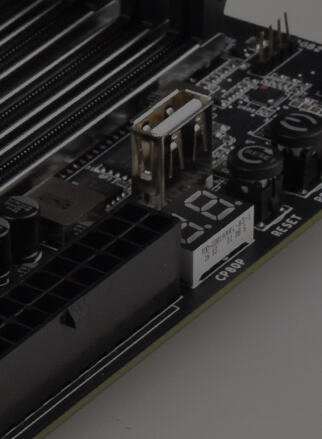 BIOS-Flash von USB auf SPI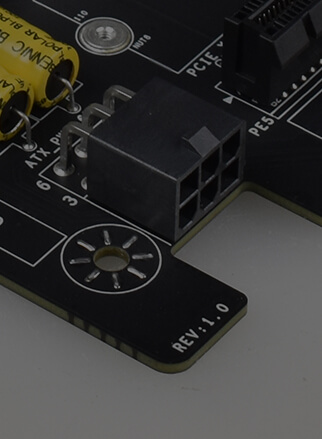 Rechtwinklige Anordnung der Stromanschlüsse und Stiftleisten für bessere Kabelführung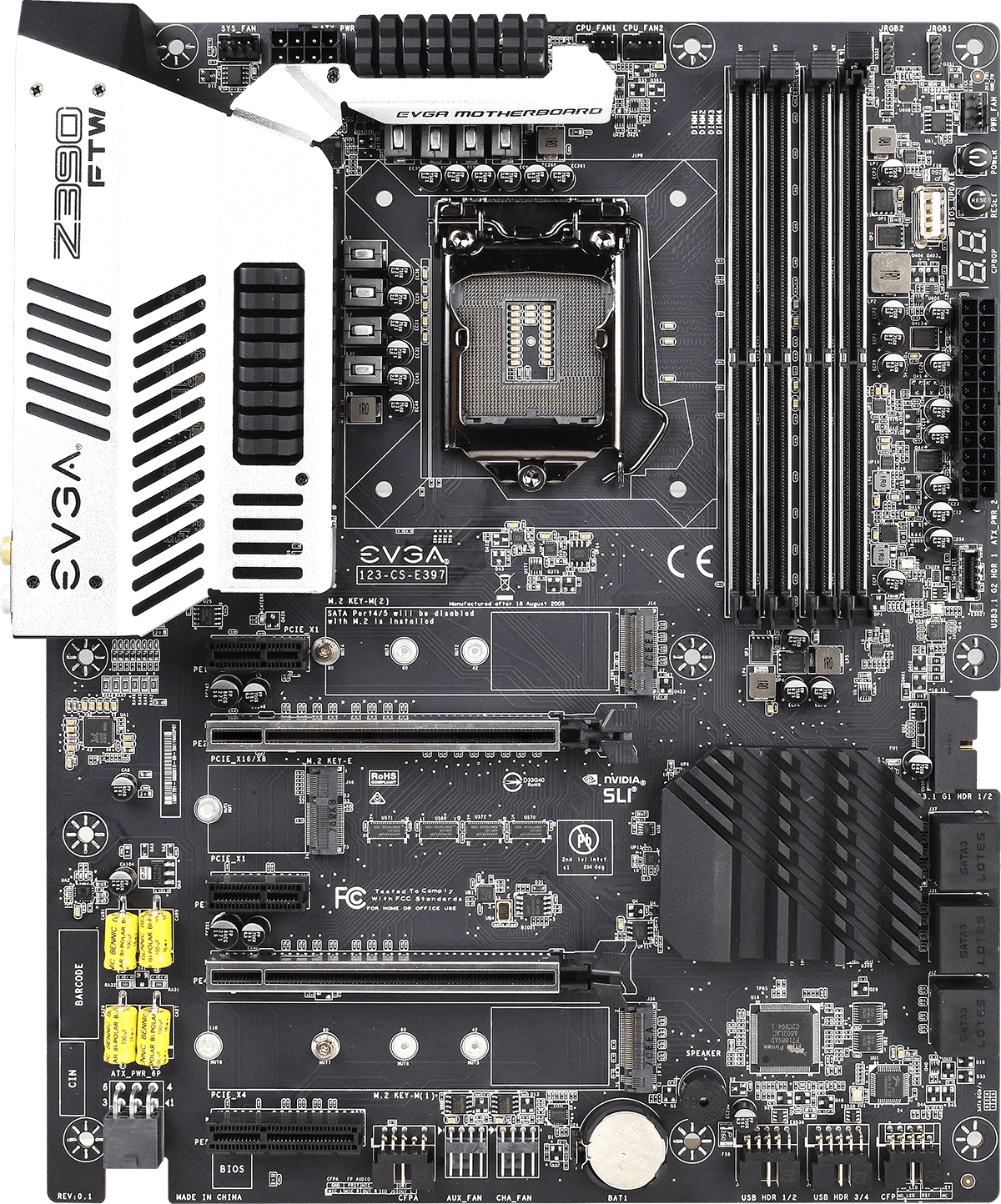 EVGA

Z390 FTW
123-CS-E397-KR
Mit dem EVGA Z390 FTW ist High-End-Gaming besser denn je – ohne dass es dich Kopf und Kragen kostet. Mit sechs SATA-Ports, USB 3.1 Gen2 Typ-A- und Typ-C-Ports, USB 3.1 Gen1-Ports, USB 2.0-Ports, mehreren M.2-Buchsen, Intel® Optane™, 7.1-Kanal-Audio mit EVGA NU Audio und einer Intel® Gigabit NIC ist das Board für alles gerüstet. Dieses Board wäre jedoch kein "FTW" ohne ein hocheffizientes digitales VRM, verbunden mit einem 11-phasigen Energie-Design, 2-Wege-SLI-Support, metallverstärkten Steckplätzen und EVGAs neuem GUI-BIOS mit OC Robot und In-BIOS-Stresstest. Was immer du als Nächstes tust: Mit dem EVGA Z390 FTW bist du auf alles vorbereitet.
Spezifikation
Chipset: Intel Z390
Socket: LGA1151
Form Factor: ATX
SLI: 2-Way SLI
Memory: 4 DIMM Dual-Channel DDR4 4133MHz+ (up to 64GB)
USB: 6x USB 2.0 (2x Rear I/O, 4x from 2 Internal Headers)
USB 3.1 (Rear I/O): 4x USB3.1 Gen2 Type-A
USB 3.1 (Internal Header): 1x USB3.1 Gen2 Type-C, 4x USB3.1 Gen1
SATA: 6x SATA 6Gb/s
M.2 Key-M: 1x 80mm Slots, 1x 110mm Slots (Up to 32Gb/s)
M.2 Key-E: 1x 32mm Slots
Ethernet: Intel i219V Gigabit NIC
Audio: Realtek ALC1220 7.1 Channel HD Audio + Nu Audio
Fan Headers: 6 (2 CPU PWM, 4 PWM/DC)
PCB: 6 Layers
Hauptmerkmale
100% Solid State Capacitors
Onboard Clear CMOS, Power and Reset Buttons
Onboard CPU Temperature Monitor
3 Year Warranty
Reinforced PCIe and DIMM slots
RGB Header Support
Highly-Efficient 11 Phase Digital VRM
Intel® Optane™ Memory Ready
Realtek 7.1 Channel HD Audio + EVGA NU Audio
EVGA

Z390 DARK
131-CS-E399-KR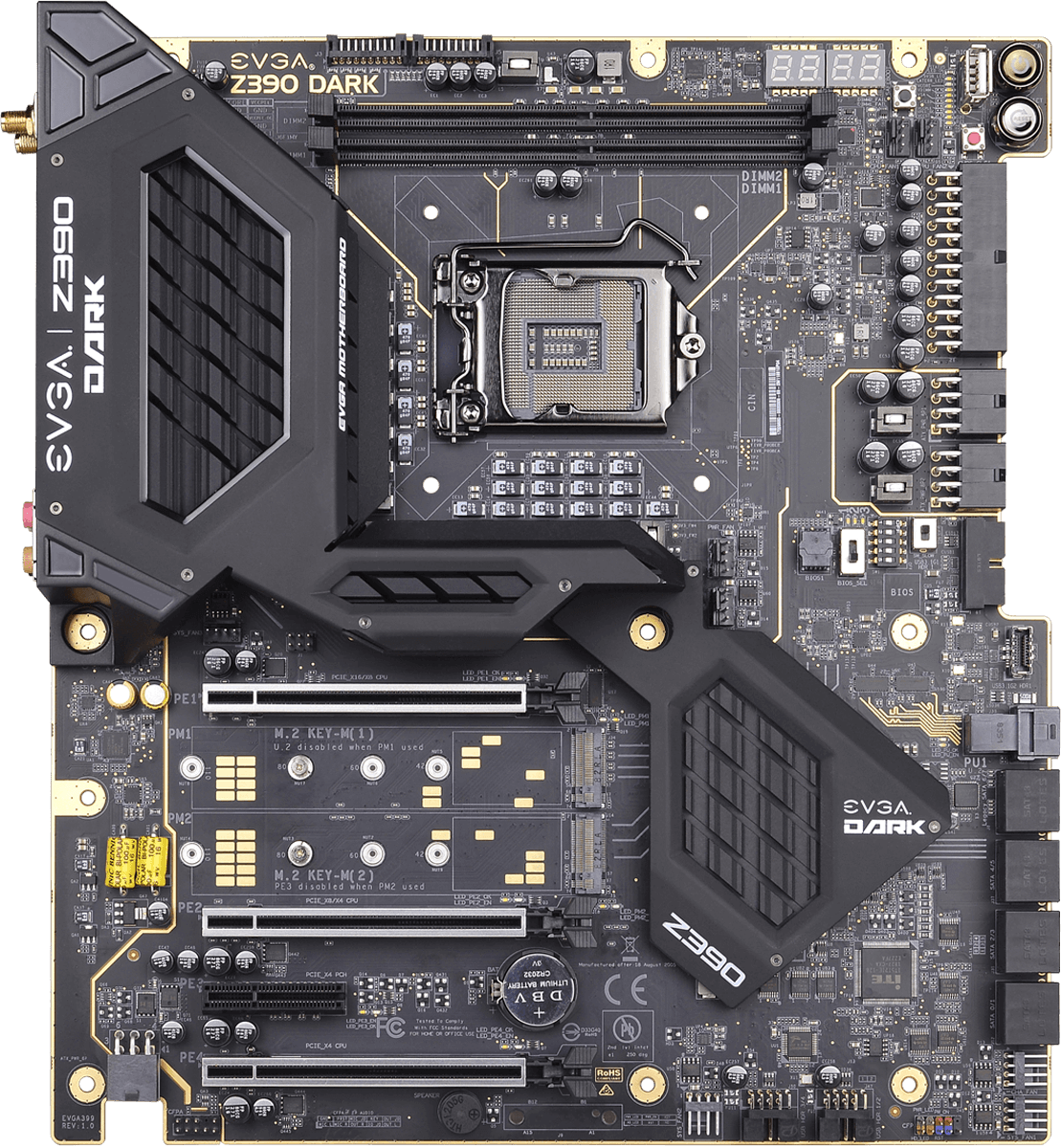 Spezifikation
Chipset: Intel Z390
Socket: Intel Socket LGA1151
Form Factor: E-ATX
SLI: 2-Way SLI
Memory: 2 DIMM Dual-Channel (up to 32GB) DDR4 4600MHz+
Display Outputs: 1x mDP
USB: 4x USB 2.0 (4 Ports from 2 Internal Headers)
USB 3.1 (Rear I/O): 4x USB3.1 Gen2 Type-A, USB3.1 Gen2 (From ASM3142) 1x Type-A/1x Type-C, 2x USB3.1 Gen1
USB 3.1 (Internal Header): 1x USB3.1 Gen2 Type-C, 2x USB3.1 Gen1 (2 from Internal Header) with USB Power Delivery Support
SATA: 6 Native SATA 6.0Gbps Ports / 2 ASMedia SATA 6.0Gbps Ports
M.2 Key-M: 2x 110mm Slots (Up to 32Gb/s)
M.2 Key-E: 1x 32mm Slots
Ethernet: 2x Intel® Gigabit NIC
Audio: Creative Sound Core3D Quad-Core Audio Processor
Fan Headers: 8 (2 CPU PWM, 6 PWM/DC)
PCB: 10 Layers
EVGA

Z390 FTW
123-CS-E397-KR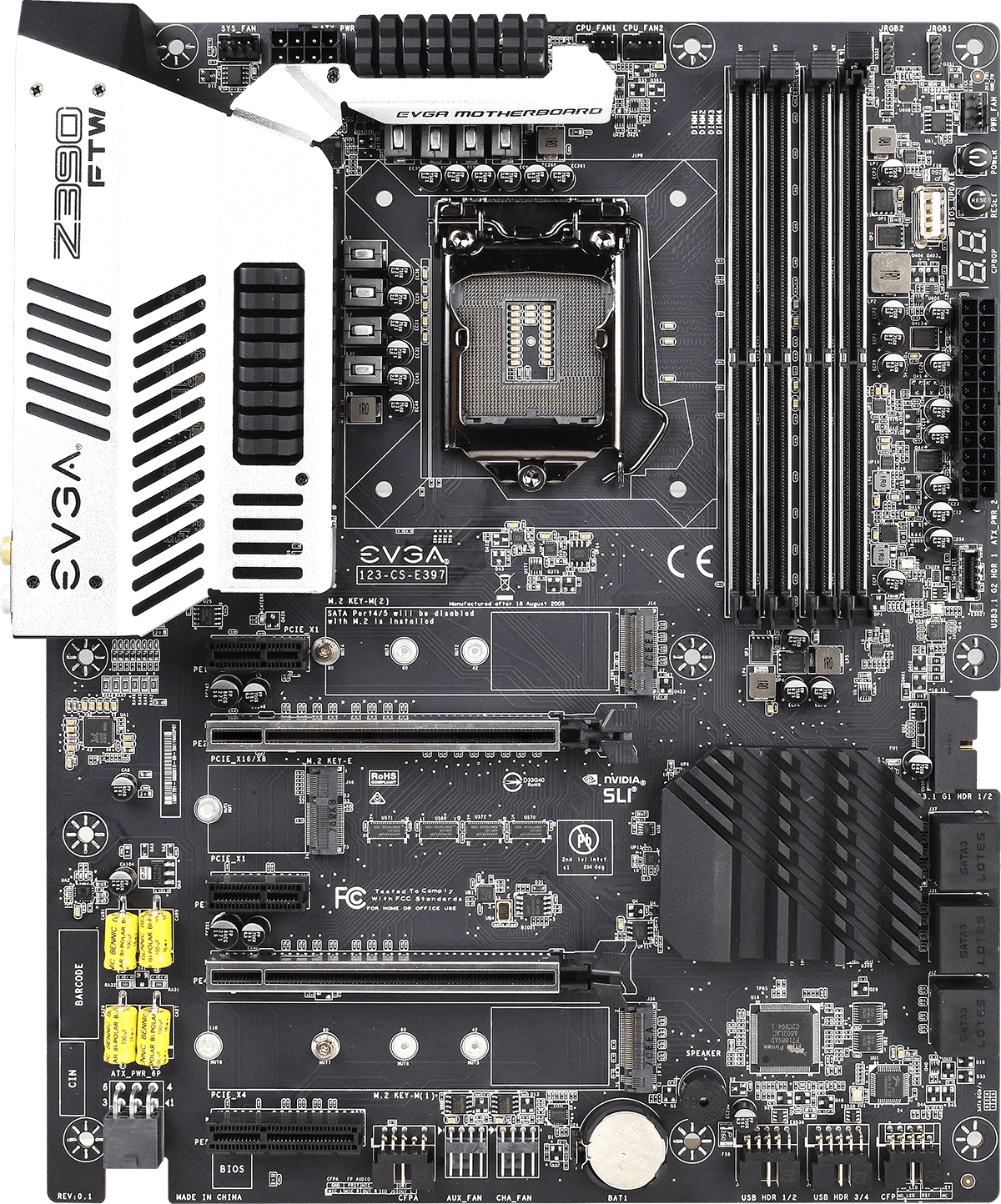 Spezifikation
Chipset: Intel Z390
Socket: LGA1151
Form Factor: ATX
SLI: 2-Way SLI
Memory: 4 DIMM Dual-Channel DDR4 4133MHz+ (up to 64GB)
USB: 6x USB 2.0 (2x Rear I/O, 4x from 2 Internal Headers)
USB 3.1 (Rear I/O): 4x USB3.1 Gen2 Type-A
USB 3.1 (Internal Header): 1x USB3.1 Gen2 Type-C, 4x USB3.1 Gen1
SATA: 6x SATA 6Gb/s
M.2 Key-M: 1x 80mm Slots, 1x 110mm Slots (Up to 32Gb/s)
M.2 Key-E: 1x 32mm Slots
Ethernet: Intel i219V Gigabit NIC
Audio: Realtek ALC1220 7.1 Channel HD Audio + Nu Audio
Fan Headers: 6 (2 CPU PWM, 4 PWM/DC)
PCB: 6 Layers